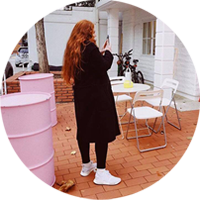 Hello! My name is Alex Charles, but I go by the design alias of LUCKY CHUCK.

I'm a 27 year old graphic designer based in Melbourne, Australia. I graduated as a Communication Design student at RMIT University in 2019, and have previously completed an Associate Degree in Screen & Media Production, which I graduated from in 2015. In 2016 I also underwent a year toward a Bachelor's Degree in Fashion Styling & Creative Direction at Whitehouse.
Because of this, I have a large, multidisciplinary skill set which includes - but is not limited to - knowledge of the adobe suite, video editing & production, photography and fashion styling.
I'm personally drawn to creating designs which have a focus on colour and form, within my practice I'm primarily interested in exploring publication design, packaging design and copywriting.